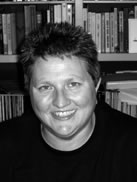 Rose Collis is an author and journalist whose critically-acclaimed biographies include 'A Trouser-Wearing Character: The Life and Times of Nancy Spain' (Cassell, 1997) and 'Colonel Barker's Monstrous Regiment' (Virago 2001) Her latest book is Coral Browne: 'This Effing Lady' (Oberon Books, 2007)

See Rose's web page here


















AUTHOR AND JOURNALIST

I could have stumbled upon Joe Orton when I was 7. In March 1967, he and Kenneth Halliwell came to Wimbledon Theatre (10 minutes walk from where I was born and grew up) to see a matinée performance of The Killing of Sister George, starring Hermione Baddeley. In his diaries, Joe expressed his delight with the audience's 'performance', which consisted primarily of easily-shocked elderly ladies who extracted more pleasure from the tea interval than the play.

In fact, like most people of my generation, I discovered him in 1978, when The Sunday Times serialised John Lahr's Prick Up Your Ears, and introduced us to a delightful Ortonesque world that was a breath of fresh air to me in my angst-ridding, sexually-confused teenage years. I was much taken with his sexual frankness (on and offstage), his disdain for hypocrisy (especially outside of his class) and, most importantly, that he was a writer who, like me, had come from the working classes.

Like Joe, I confided in my diaries as a teenager, chronicling my 'other', real self that my family didn't and couldn't understand: my friends, my burgeoning sexuality and my creative aspirations in music and theatre. And, as he did, I always felt like an alien within my own family. So emboldened was I by the unashamed polymorphous perversity in Joe's work that, as a young actress, I used a speech from Entertaining Mr Sloane as an audition piece - not one of Kath's, one of Mr Sloane's.

In 1997, I fulfilled one ambition which Joe shared: I bought a home in Brighton, the town where he and Kenneth spent an infamous weekend in July 1967, just weeks before their deaths. Of course, it's a place with so many links to Joe: Peggy Ramsay and Oscar Lewenstein lived there, as did Orton admirer, Terence Rattigan. The public toilet where Joe had his famous sexual encounter with 'a dwarf' in 1967 now houses the offices of a property management company - not an entirely incongruous conversion for a cottage.

Loot and What The Butler Saw where both produced at the Theatre Royal - and here my connections to Joe Orton come full circle: my latest book is the biography of Coral Browne who, in 1969, played Mrs Prentice in What The Butler Saw. This glamorous and witty actress was actually suggested by Halliwell as being ideal for the role. He was right, of course - but, as history tells, he ensured that neither he nor Joe lived to see his judgment gloriously vindicated.