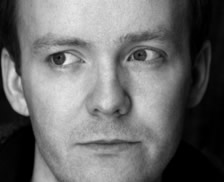 Daniel Thurman is a writer. His latest play, 'Those Hard to Reach Places' will be broadcast soon on BBC Radio 4.

















WRITER

Like Joe Orton I was born in Leicester. The fact that we shared a home town, coupled with wanting to be a writer myself, led me as a teenager to happen upon his plays. Their ingenuity, audacity, elegance, precision and wicked humour thrilled and inspired me.

Via the bluster of my P.E teachers, I had always been familiar with (though immune to) the achievements of Leicester's famous sport-related sons (Gary Lineker! Martin Johnson! Peter Shilton! Willie Thorne!), but the discovery that my city had produced Joe Orton – a luminous theatrical talent – proved a personal revelation and fired my ambition. And I have never stopped finding inspiration in Orton's plays. I am still exhilarated by his turn of phrase and am always moved by the bleakness beneath the brilliance.

I recently hosted an event entitled 'Celebrating Mr Orton' at London's Tricycle Theatre and had the pleasure of interviewing Orton's sister Leonie Orton-Barnett, the director Peter Gill and the 1966/67 cast of 'Loot'; Sheila Ballantine, Kenneth Cranham and Simon Ward before a capacity audience.

The evening kicked-off with an excerpt from 'Entertaining Mr Sloane' with Belinda Lang as Kath introducing Rupert Hill's Mr Sloane to her brother Ed (Ken Cranham). Leonie Orton-Barnett followed and spoke candidly and vividly about the Orton family's Leicester roots. Leonie acknowledged her mother Elsie's huge influence on Joe and recalled how he avoided escorting her to the first production of 'Sloane', lest she recognise her own pretensions in the character of Kath.

My second guest was the playwright and director Peter Gill, who had first staged 'The Ruffian on the Stair' in 1966 before pairing it with 'The Erpingham Camp' as 'Crimes of Passion' (It was for that production's programme that Orton was sketched naked by the artist Patrick Prockter). Peter discussed Orton's affiliation with the Royal Court and the classical influences behind much of his work.

As the evening was taking place on the set of the Tricycle's production of 'Loot',
the 1966/67 cast of the play later found themselves in the familiar surroundings of the McCleavys' front room.

Sheila Ballantine remembered Orton's invaluable presence during rehearsals, while Simon Ward recalled Kenneth Halliwell as amusing and pleasant company (in stark contrast to the usual representation). It was immediately clear how fond all three actors were of both men and how much they enjoyed performing Orton's work.

To end, Ken, Sheila and Simon gave a fantastic reading of the Edna Welthorpe correspondences, with Sheila bringing Edna hilariously to life.

I know that many share my enthusiasm for Orton's work, but due to his plays giving me that early incentive to write, I feel a very personal connection to Joe Orton – and an abiding gratitude.